Let us not pray to be sheltered from dangers but to be fearless when facing them. - Rabindranath Tagore
While most of us would shriek at the sight of a tarantula, there is one man who beats all odds to become the most fearless person on earth.
Eskil Ronningsbakken is his name, a world class extreme artist who has made a career out of dare-devil stunts not so many people would want to try.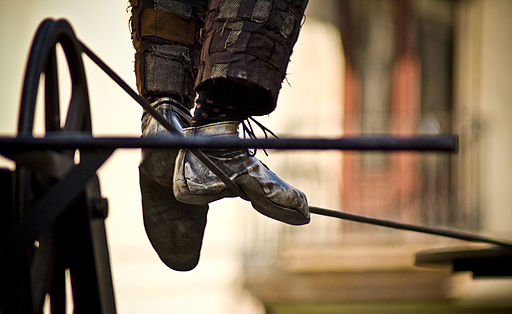 Image: Via Wikipedia
Eskil Riding His Bicycle Backwards Down Dangerous Mountain Roads At High Speed
Eskil is a master of balancing acts but not the normal circus type we all know of, he is a superhuman who balances on a tightrope between cliffs and jaw-dropping canyons.
Born
Eskil Ronningsbakken was born in 1980 in a small Norwegian village known as Stange town.
As a young boy, he was always energetic and practiced balancing each chance he got.
While most people forget their childhood dreams to pursue what society defines as the norm, young Eskil decided to pursue his lifelong dream of balancing performance right from the age of 5,
Early Life
Eskil enrolled at a German Arts School, Staatliche Artistenchule in Berlin, where he furthered his practice on balancing performance.
At the age of 18, Eskil worked at circus (more like ran away to join the circus!) where he got all the space he needed to get better at balance performance.
Practicing on stage gave him a taste of what it would feel like performing to an audience, and this motivated him to push his limits further.
It was not long before Eskil got his big break which came in 2001. The extreme artist performed in front of an audience in Preikestolen by balancing perfectly on a 600m Fjord.
It was this defining moment that Eskil discovered his biggest super power which he has guarded dearly throughout his career.
What Is His Super Power?
What makes Eskil Ronningsbakken successful is his biggest power of mastering fear.
From his own words, he is never terrified by death as he dangles dangerously on cliff edges or when suspended on a tightrope between two deep canyons.
But like heroes, fearless men are made and not born, the years of mastering both mental and physical balance when performing is what makes Eskil the world's most fearless man.
His other biggest strength is the ability to recognize nervousness as an opportunity to wow his audience.
Eskil Ronningsbakken admits to being afraid before every performance, but he knows without a certain element of nerves the performance would not be as exciting.
His death-defying dare-devil antics has seen him ride a bicycle 1000 ft above air on a icy Fjord, balance a chair and pole on a rock lodged between two cliffs and balance on a penny farthing right at the dangerous edge of Fjords.
Eskil is not done yet, he is planning to perform a daring one-arm handstand on the world's tallest building, Burj Khalifa, in Dubai.
Experts say the act is near impossible, but Eskil knows this is his next big dream yet to be achieved.
What Can We Learn from Eskil Ronningsbakken?
If there is one thing we can learn from this balancing performance guru, it is the skill of controlling fear.
Fear is normal and we cannot deny it but if we can master how to act in bravery, whilst afraid, we can get a glimpse of what it's like to be Eskil Ronningsbakken.
Videos and Other Links
Eskil On Wikipedia
His Website
Daredevil acrobat Eskil Ronningsbakken performs on China's Aizhai bridge
Daring One-Armed Handstand Stunt