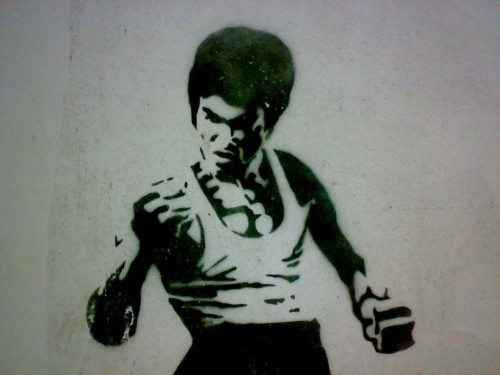 I fear not the man who has practiced 10,000 kicks once, but I fear the man who has practiced one kick 10,000 times. - Bruce Lee
Bruce Lee may not have walked on this earth for very long, however his legend will remain for generations to come.
Born
He was born on the 27th of November, 1940 in Chinatown.
Although his life started in San Francisco, California he was actually raised in Kowloon, Hong Kong.
How Did Bruce Lee Die?
He died on the 20th of July, 1973 in Kowloon Tong, Hong Kong as a result of a brain brain aneurysm.
There had been warning signs a few months earlier as he had collapsed on May 10, 1973.
This earlier episode was diagnosed as cerebral edema, and the symptoms prior to his death were the same.
After an autopsy was carried out the death was reported to have been due to a reaction to some medication Lee was taking for an injury to his back.
After he died his body was laid to rest in the Lakeview Cemetery, Seattle.
History
Lee Jun-fan known as Bruce Lee, was a legendary action film actor known across the world for his amazing martial art skills.
Bruce Lee held both USA and Hong Kong nationality.
Important Life Facts
Bruce Lee was a son to Lee Hoi-chuen and Grace Ho
His father was a Cantonese opera star, and he had four siblings
He was a martial artist, actor, screen writer, martial arts instructor and film director, and last but not least a father to Brandon Lee and Shannon Lee
He trained in the Wing Chun art and later created his Jeet Kune Do technique
Bruce Lee was born in the hour and the year of the Dragon.
During his youth, Bruce was involved in a lot of street fights and this caused a number of issues with the people in his neighborhood, and eventually the police.
Because of this unrest his parents sent him to live with his older sister in the US.
Education
He attended Tak Sun School in Hong Kong
Lee completed high school in December 1960
He went to the US at 18 to acquire higher education
He learned at University of Washington where he started teaching martial arts and met his wife
Bruce Lee Superhuman is without a doubt the most influential person in martial arts of all time.
He is also known as a 20th century pop culture icon.
He greatly impacted the way Asians were viewed in American films.
Who wouldn't call Bruce Lee super human?
Bruce Lee's Super Powers
Some of the super human feats of Bruce Lee:
Catch rice with chopsticks
Perform one-fingered push-ups
One-armed pullups
The one inch punch
The unstoppable punch
He was so fast cameras struggled to film him
His kicks could send opponents flying through the air
Top 10 Reasons Why He Is Called Bruce Lee Superhuman
He developed different styles of fighting that stretched the boundaries of traditional martial arts.
Notable Achievements
Lee won a lot of honors during his lifetime.
He was awarded a Founders award in the Asian awards
He had a statue made of him in Los Angeles
Lee was also featured in the EA Sports UFC video game
Houston Boxing Hall Of Fame voted Bruce Lee in 2014 as the Greatest Movie Fighter Ever
What can we learn from Bruce?
Bruce was a very ambitious man.
Through his amazing accomplishments, he helped ensure that the Asian image was respected and valued around the world.
Bruce Lee did not let anything stop him from achieving what he set his mind to.
What you habitually think largely determines what you will ultimately become
He was a strong believer that what you think in your mind, helps determine what happens in your life.
More Links and Videos of the Super Martial Man – Bruce Lee
Bruce Lee's Website
Official Bruce Lee Facebook Page
Top 10 Bruce Lee Moments
Bruce Lee Vs. Chuck Norris
Some of his most successful films include Fist of Fury, The Big Boss, The Game of Death, Way of The Dragon and Enter the Dragon.
These movies made Bruce Lee into the superstar we all know him as.