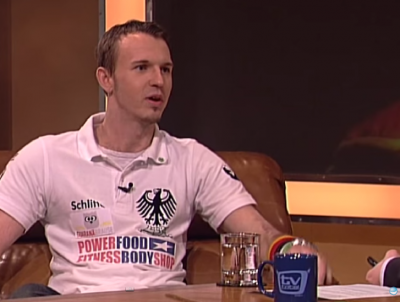 I'm not so enthused about people coming up and patting me on the back saying "you're the best". I don't need people to do that to me. If I win, its because I wanted to be the best one time in my life.- Mad Dog Madison (Over the top)
What exactly is it that makes Matthias Schlitte a Superhuman?
When a rare genetic disorder made Matthias Schlitte's right arm larger than his left, this incredible human being did not see it as a problem but an opportunity.
The 27- year old has used this rare bone disorder to become a professional arm wrestling champion in record time.
He sees his disorder as a gift from above and his calling in life. One he must use for the betterment of his life and that of his family.
Early History
Matthias Schlitte, also known as "Hellboy" was born on April 2nd 1987 in Haldensleben, Saxony-Anhalt in Germany.
When he was three, his family moved to the village of Bebertal in the same region of Germany.
It was when he was three years old that his family began to notice that he was different from other children.
His exceptional ability came to the fore-front when at the age of three; he lifted a rather heavy bucket of coal for their family oven and brought it to his mother.
This action is uncommon for a child of three to accomplish and his family began to pay attention to what Matthias could do.
What is his superpower?
In 2004, when he was only 16 years old, Matthias Schlitte competed in his first major arm wrestling competition.
His mother had spotted a flyer at a gas station announcing the completion.
The organizers had specified that they were looking for male arm wrestlers who had to weigh no more than 90kgs.
Matthias weighed only 65kgs and all the bigger men at the event laughed at him when he showed up for the tournament alongside his mother.
He won this tournament, easily beating all the other "bigger men" at the event to go home with the top prize.
His amazing success at his first event got him recognition but above all, he also gained the interest of the Vice World Champion and assistant coach from VFL Wolfsburg, Bill Frank.
Mr. Frank invited Mathias to a training session that would lead him to become a member of VFL Wolfsburg.
He also received training from Olaf Koppen, the national coach and arm-wrestling German Champion Dirk Schenker.
In April of the same year, he participated in his first professional arm-wrestling championship and was able to win the youth class without as much as a single defeat.
He took part in a number of other national championships through 2004 and 2005. In 2006, he took a break to focus on his education.
In 2008, he returned to arm-wrestling and began rigorous training for the German Championships to be held in April of that year.
He managed to garner enough points to compete in the European Championships, beating the top arm wrestling champions in Germany.
All this time, this young man from Germany has continued to capture the world's attention.
His popularity and rare ability get him invites to various arm-wrestling events around the world.
What we can learn from him
Matthias Schlitte and his superpower abilities are a testament to the old adage of working with what you have to get where you want to go.
Granted, he was born with his abilities; but from his story we can take away the importance of using what we are given to achieve a great life.
It would have been very easy for Matthias to regard his life as abnormal and hence one to be hidden away and never revealed to the world.
It is not uncommon to find children in the world who are "different" but their "difference" is not celebrated or embraced.
Instead they are hidden from the world and never get to use their "difference" to make a "difference."
Matthias Schlitte took the cards he was dealt and turned them into a winning hand.
There is a valuable lesson here for anyone who wants to achieve anything.
What he is currently doing
Matthias continues to take part in various arm wrestling championships and making appearances around the world to spend time with his fans.
He also runs a blog that details his life and experiences living with the genetic disorder that has turned his life around.
In this blog, he also provides tips and advice on how to become a top arm wrestler. He uses this blog as a way to pass on the knowledge he has gained over the years to others who want to try arm wrestling.
Links and Videos
Matthisa Schlitte Website
On Facebook
Youtube Channel
Matthias Schlitte vs. Ali Khan
Image credit