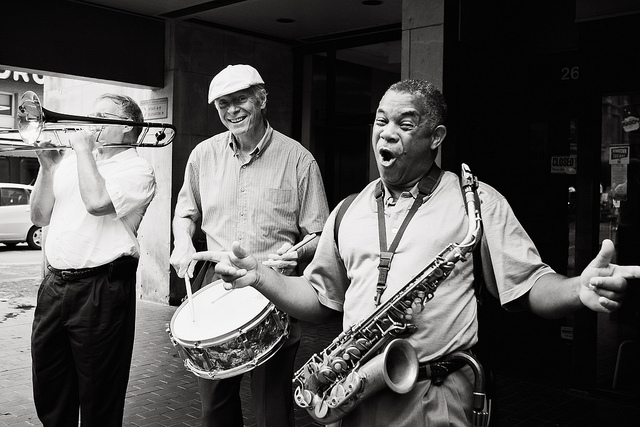 Kenny Muhammad has a fascinating story.
When most of us think of today's superhuman individuals, we list off people with extraordinary speed or strength.
The superhuman stereotype is someone who can lift cars and run multiple marathons back-to-back, or someone who possesses natural mathematical abilities that surpass even the most highly educated professors and mathematicians.
We can all name a savant or a strongman, and we are more than familiar with their superpowers.
But what about astounding beatboxing abilities? It may sound bizarre, or just plain hyperbolic, but that is exactly what American musician Kenny Muhammad has to offer!
Better known as The Human Orchestra, this superhuman has made a name for himself in the world of beatboxing and vocal percussion.
Early History of Kenny Muhummad
Kenny Muhammad was born on December 3rd, 1968, in New York City.
The Human Orchestra started off his journey towards greatness during the summer of the year 1980, when he was living with his mother in Far Rockaway, New York.
His mother had raised him listening to inspirational acts like James Brown, Earth Wind & Fire, and even the JB's, and as he grew older, he pursued this music with dedication and passion.
It wasn't until he stumbled upon an act from Jamaica, Queens known as the Fat Boys that he discovered a name for the sounds that intrigued and thrilled him: the human beat box. This discovery lit a fire under him, and he jumped in with both feet!
Kenny Muhammad brought the art of beatboxing into his daily life. He quickly started performing for anyone who would listen to him- his friends, his relatives, and even random people on the street. He would beatbox at school, in the local park, on any accessible street corner, and in the hallways of the building he called home.
If he could find a place where people would listen to him perform, he would gladly beatbox for hours. No crowd was too big or too small.

To him, the sounds seemed to come straight from his soul, and he wanted everyone to hear them.

His first gig? Well, that was a performance with his twin brother, Keith Muhammad, at a Bar Mitzvah. Immediately after that performance, he and his brother created a group called the K Connection, and Kenny began to mold himself into what would become the Human Orchestra.
Even after a terrible accident that left him with a punctured lung, he continued pursuing his dream.
As for his first big performance, that happened in 1991 at the Apollo, after he had won Showtime for the third year in a row.
Immediately after that, he toured the world with acts such as Mindless Self Indulgence, Public Enemy, and even Stevie Wonder. His popularity skyrocketed.
What is His Superpower?
Kenny Muhammad's abilities exceed that of your average beatboxer. He has the amazing ability to create highly intricate rhythms layered with vocal sound effects and bass lines.
He sounds like a full rhythm section, rather than just one man, which is how he earned his title: The Human Orchestra.
Having mastered the wind technique, Kenny creates percussive sounds while he both inhales and exhales, which is part of what makes him unique.
His popularity is also in part due to a beatboxing technique known as vocal scratching, which sounds just like a hip hop DJ scratching vocal recordings.
What can we learn from him?
Kenny Muhammad, The Human Orchestra, world-renowned beatboxer, is living proof that you can make a living doing just about anything.
Not only that- you can excel in any field, and even the most unconventional talents are something that should not be ignored.
The idea of a world-famous beatboxer was completely foreign before Kenny Muhammad rose to fame.
Like a true trailblazer, he found venues that would accept him and altered them to better suit his needs and his goals.
His goals are to "uplift" and "inspire humanity to do the impossible," and with his own success story, he continues to do that every day!
What is he currently doing?
In 2010, Kenny Muhammad's astounding abilities earned him a feature on Stan Lee's Superhumans.
He has continued to tour the world with various acts, and has been featured on MTV, MTV2, The Tonight Show, and 30 Seconds of Fame. He has also recently performed with famous jazz artists and the New York Symphony Orchestra.
He is currently working on his first album.
Links And Videos
Kenny Muhummad on Stan Lee's Superhumans
Featured Image Credit